Home
Top:: Business : Business to Business

2 Results ... Displaying 1 - 2

Dropship Source Directory
The Drop Ship Source Directory is a comprehensive drop shipping business resource to help your customers find name brand and specialty items to market online or offline. It is essentially an online catalog of wholesale distributors. It's 2 tier affiliate program pays 25% on your sales and 10% on your affiliates' sales. Visitors are tracked for 180 days.
Get Factored
Help businesses get immediate cash for their invoices. Free online service where factors compete for your business. The affiliate program is 2 tier and pays $75 commission on the first tier and $20 on the second tier.
Click Here To Add A 2 Tiered Affiliate Program To This Directory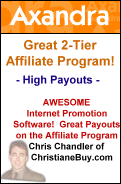 -- Read His Article On Arelis


Powered by iLink