Home
Top:: Business : Investing

2 Results ... Displaying 1 - 2

Market Signal Systems LLC
Take advantage of the research we've invested in developing the Market Trend Plus Timing System, and you too can achieve results that will outperform the stock market indexes regularly!


Portfolio Crafter
Join us now and make 20% of all the membership subscriptions originating from your links. Plus you'll receive a recurring commission of $10 per month for each member for the time he remains our customer. On top of that, you also have the opportunity to introduce other webmasters to this very profitable affiliate program. When they become an affiliate themselves, you'll also earn 50% of all the comissions they get. And there's no limit to the number of sub-affiliates you can have.

Click Here To Add A 2 Tiered Affiliate Program To This Directory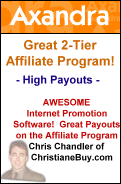 -- Read His Article On Arelis


Powered by iLink